What are good SMS messages - just open the application with messages and you can find out the full course of the conversation. Is this not true for calls, or is it still possible?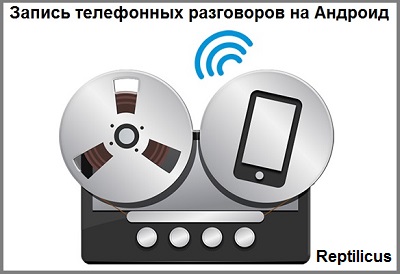 Many people have often come across situations when in the course of a telephone conversation the interlocutor spoke something important, but the stream of thoughts was so fast, and there was so much information that it was not possible to remember and assimilate everything. But if the conversation is not with a friend or close acquaintances, I don't really want to ask again many times. Helps to get out of the situation - the program for recording telephone conversations Reptilicus and downloaded from the Play Store.
Modern Android smartphones can easily cope with the corresponding task - the main thing is to choose and install a special application on the device, as well as configure it as needed. A little lower just will be told how Android records the conversation, and what is needed for this.

Is it legal to record telephone conversations
Most people who need this opportunity are interested in the legality of saving telephone conversations. Here, it should be said, not everything is clear. In a number of countries, these acts are a crime, and they can be punished - up to imprisonment. In other jurisdictions you can record, but not publish, in the third - such audio files cannot be evidence in court.
In Russia, recording a conversation is not prohibited, and therefore it can be done, but with some reservations. According to the constitution, persons without special permission are prohibited from recording telephone conversations of third parties. That is, for example, installing appropriate on someone else's smartphone in order to listen to their conversations is a crime.
However, you can record your conversations, and it is not even necessary to warn your interlocutor about this. But you cannot publish the corresponding audio files and / or transfer them to third parties (if you do not have the appropriate permissions).
As for the use of saved conversations in court, they can be either accepted or rejected by the judge. In addition, such evidence is not a priority, that is, it will not be considered in the first place. You can read more detailed information in the corresponding section on our website (see. Legal side).

How to record a telephone conversation
Android does not officially support recording conversations, but this is not necessary - it is not very difficult to implement the corresponding capabilities. The developers of the corresponding software can use one of two methods for making audio: by flashing the kernel of the system, or by receiving data through a standard interface.
In the first case, the developer needs to make changes to the kernel of the system, and therefore such programs can only work on phones for which Root is received. The second method is to obtain the necessary information flows using special libraries (lib) using special programs for recording a conversation.
It should be noted that saving conversations on Android of some versions may not work (for example, for those intended for EU countries). But this applies only to some programs that use certain modules of the system.

Popular Android Phone Recording Applications
Since Android, for obvious reasons, does not have a standard function for recording calls, to record conversations you need to use third-party applications that are easily downloaded, for example, from the Play Market.

Automatic call decoder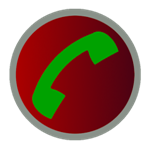 Call Recorder Automatic Call Recoder is the first program to record Android phone conversations. This application starts saving the conversation automatically immediately after the call has been received or made.
By default, only the last 100 calls are stored, but this number can be expanded or reduced in the settings. So that the recordings do not take up much space, you can tell the program to send them to the cloud, for which you need to pre-connect, for example, Drop Box.
This application for recording calls can be downloaded in the Play Store. But since 2019, due to the privacy policy (the law on non-disclosure of personal conversations), this application for recording telephone calls does not show the number of the caller, and the recording of the conversation is not carried out as announced by the developers.

Call recording application "Zvondik"

"Zvondik" is a fairly functional application (we can say that it is even too functional) to save telephone conversations. It can be configured to record all conversations or only specific ones. You can also activate and deactivate the corresponding function of this program at any moment of the dialogue, as a result of which only the selected part of the conversation will remain on the phone.
As well as in Automatic Call Recoder, a special player is installed in "Zvondik" with which you can listen to all the records made. The files themselves, in turn, can be uploaded to Google Disk (for this it is enough to give the program the appropriate permissions).

Call Recorder Application

Another application is called "Call Recorder". It is distinguished by an unpretentious interface and a small number of settings. The program saves all allowed calls in memory (you can specify the numbers from which you should record or vice versa - you should not (the system is similar to the blacklists familiar to many).
You can listen to conversations only in a third-party player, but it is not difficult to find the desired conversation - the file name is the date and phone number. You can also configure the application to send files to a user-specified email.

Application for recording ACR calls

And another option is ACR call recorder app. Starts recording automatically, but in the settings you can specify calls from which numbers should be recorded, and upon receipt of which, you do not need to start recording. The application can save files to the clouds: Google Disk, Yandex.Disk and DropBox. You can select the desired format - there are several of them in the program. The audio recordings themselves are played by the player, which is preinstalled in the application. To prevent anyone from gaining access to the recorded conversations in ACR, you can set a password.

Reptilicus Telephone Recording

Reptilicus App - This is the best program for recording conversations on Android. If a person needs (now or in the future) not only automatic recording of telephone conversations, but also logging SMS, messages of social networks and instant messengers, and also is interested in reliable data protection on the phone, then he is recommended to pay attention to the Reptilicus application.
This program saves all telephone conversations by default. You can additionally specify in the settings: from which numbers you should record conversations, and when you receive calls from which you do not need to do this. To start recording, it is enough to accept the call, and upon completion it will automatically end. Thus, the user can not worry that for some reason some call will not be recorded.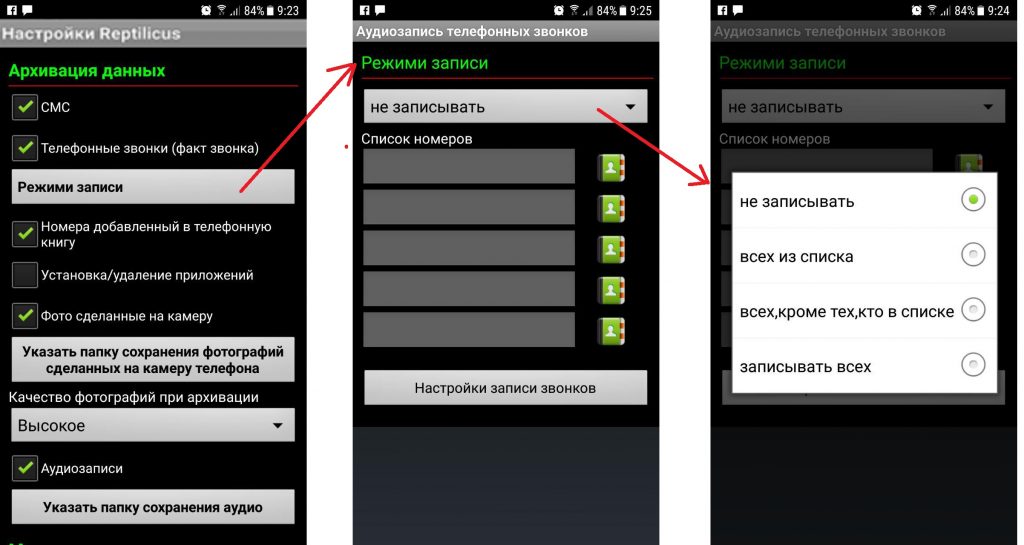 The application is paid (for more details on the cost of the Reptilicus call recording application, see the "Payment" page). There is a free trial period during which you can try all the features of the application.
Reptilicus Telephone Recording Is the best call recorder app. There are no restrictions on the number of entries - there can be several tens, hundreds or even thousands of them (depending on the amount of memory in the phone). They will be stored in the office for exactly 1 month after receipt. Then they are permanently deleted.

Differences of Reptilicus from other similar applications
The main difference is, of course, tremendous opportunities. Reptilicus Is a real harvester that allows you to save dialogues from almost any popular sources: WhatsApp, Viber, Telegram, Imo and Gem4me, VKontakte, Instagram, Odnoklassniki, Facebook and KateMobile for VKontakte and regular SMS messages. And in order not to lose the relevant data, you can use the service that the program offers (you will need to first create an account on it).

Reptilicus Call Recorder Features
The ability to find a lost phone. The program reads geolocation data and sends it over the Internet. The device owner, in turn, can easily get acquainted with this data using a special service, and find out where the smartphone is currently located.
When changing a SIM card, a notification will be sent to the office about where the change was made: the exact location on the map and the date.
Reptilicus can also be used in a corporate environment. The business owner can install the program on the devices of his subordinates (of course, with their consent) and always stay informed about what his employees are spending time on and where they are now (more about this function in the section Monitoring the work of subordinates).

Conclusion
If you need a good and inexpensive program for recording conversations with a wide range of additional functions, then we recommend choosing the Reptilicus service. You can download it on our website following the link. Setting up a Reptilicus application does not require any special knowledge and does not take long.
For your questions - our consultants will answer!