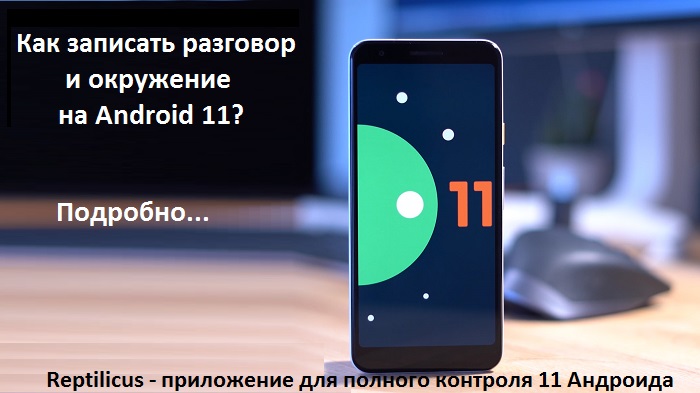 Recording conversations and surroundings on Android 11
Don't know how to record conversations and surroundings on Android 11? Do you need not just a recording, but also full details (name, number, date and duration) of the conversation? Your family and friends have phones on Android 11 and you want not only to record telephone conversations, but also the sounds of the environment?
Present to your attention Reptilicus app - full control over your devices (phones and tablets) on Android OS!
.
Why do you need to record phone conversations on Android 11?
Wiretapping of telephone conversations and Internet calls is not only a spy game aimed at revealing "secret and very secret secrets." This is a real opportunity to know:
With whom and what is your child talking about on the phone (recording of telephone conversations).
How are additional tasks being conducted (remote switching on of the recorder).
Who do the children communicate with over the Internet (recording voice messages and Internet calls).
How your employees negotiate (call recording).
What is the work staff talking about in the offices (remote activation of the recorder).
Record your telephone conversations, so that later, if necessary, listen to the recording.
Receive details of all calls (made, missed, incoming, outgoing, telephone, made via the Internet).
And much more.
As you can see, very many, many people really need to record conversations.
.
Some statistics
Statistics show that programs for recording conversations on Android will always be in demand. And the fact that the developers of Android 9 and 10 removed the ability to automatically record conversations has already proved that it was a big mistake, because people really need this function.
After all, it was during this period that call recording applications became very popular. They were searched in Google, Yandex and other search engines of the world by 85% of users of Android devices (smartphones and tablets).
Not only the record was returned. Now, Google has developed the Verified Calls function for Android 11 - this is a global check of all incoming calls to your phones and tablets to check them for safety. And if a special icon appears next to the call, then the call is not spam and not scammers.
.
What do you need to do to record a conversation on Android 11?
Let's say you have Samsung and you just need to record a conversation with Android 11, what should you do in this case? You need to take Samsung and install the Reptilicus application there.
If you have 11 Android phones (Samsung, Xiaomi, HTC, Huawei, Lenovo, LG, Meizu, Honor and others), take 3 simple steps:
Step 1. Register Online.
Step 2. Download Reptilicus application.
Step 3. Install application to the device.
That's it! You don't need to do anything else. The application will automatically record, save and send files to your personal account. And you just have to go into it and listen to the recordings at any convenient time.
.
What else can Reptilicus do?
If you have Android 11 phones, then you can get:
recording telephone conversations;
recording of conversations made over the Internet;
record voice messages;
remote recording of the environment (dictaphone);
screen recording (screenshots);
remote camera photography;
location determination;
viewing correspondence;
viewing contacts in the phone book;
viewing applications installed in the smartphone;
and much more.
As you can see, the functionality of the application is quite extensive.
.
How to record phone environments on 11 Androde?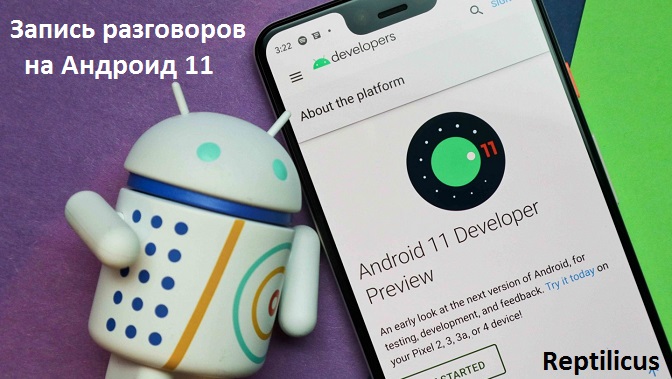 Surround recording or "dictaphone" is the ability of the Reptilicus application to remotely (remotely) record through the microphone of a smartphone or tablet.
Surround sound recording on Android 11 version can be done in three ways:
On command - set the duration of the recording and send the command.
By interval - set a specific time when the microphone will automatically start recording sound (for example, every day from 10:00 to 13:00).
After a phone call - this method will allow you to record everything that happens around the phone after a call has been made on it.
For more information about what the program for recording conversations on Android 11 Reptilicus can do and how to set up recording of the environment, you can ask our consultants or see the "Guide".
.
How to get to the forum about 11 Android?
Forum Android 11 (recording a conversation, screenshots, photos, sms, surroundings, etc.) w4bsitXNUMX-dns.com Reptilicus is here >>.
This is the largest Russian Internet forum (Internet for Russian-speaking users), where there is also a discussion about 11 Android phones.
Here you can discuss the operation of the application, ask the developers directly about how the call recording works on Android 11 Samsung, Honor, Meizu, Lenovo and other brands of smartphones and tablets.
Reptilicus is the best Android 11 call recording app in 2021.
Do you have any questions? Write to our online consultants!