The Reptilicus program is a logger application that allows you to fully control your Android devices - read text messages, view photos, listen to conversations, remotely control the device and much more. It also intercepts Instagram and other well-known social networks and instant messengers.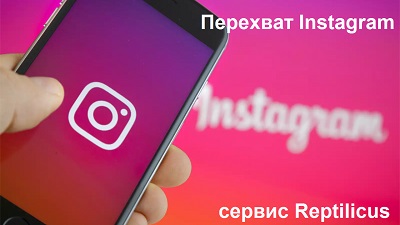 Instagram monitoring - This is an opportunity to read the correspondence on Instagram and view photos stored in bookmarks. Our Reptilicus program is is this Instagram spy app? Not certainly in that way. Yes, we can read other people's instagram posts, but this is absolutely impossible. Attention! This program is intended only for reading your messages and only from your Instagram account.
Many are interested in the question: "Is it possible to install the spy app for Instagram remotely?". No, you can't, the application is installed independently on a controlled telephone. Instagram monitoring will begin immediately after installing Reptilicus on your phone. It will collect data and send it to your personal account.
You can learn about all the available functions of the Reptilicus program. here.
Is Instagram spy a program that allows you to hack a page? No, it only intercepts messages, you cannot enter the page and do something there. Can Instagram spy be installed without the owner's knowledge? Of course, people are different and their goals are different, and everyone can use our application at their own discretion. Therefore, so that the Reptilicus Instagram spy is not installed on your phone, keep it always with you and do not allow anyone to climb in it when you are not around.

Conclusion
So, can you read someone else's Instagram? - It is possible, but for this there is a criminal or administrative penalty in most countries of the world. Is it possible to intercept Instagram without access to the phone? - No you can not. Can you be sure of the safety of your instagram correspondence? - If you are not sure that no one has installed third-party applications on your device, and your device was in the hands of relatives or friends, of course you cannot be 100% sure of anything.
For your questions - our consultants will answer!